Name:

Prof. Susanne Mayer

Funktion:

Professorin

Lehrgebiet:

Bachelor Courses: graphic arts; screen design: studio production tv; consulting on design and conceptual issues for all audiovisual productions. Master Courses: clay modelling; media art; design proejcts

Forschungsgebiet:

Research project: Color & Culture; Exhibition CHROMA256 Townhall Stuttgart 22/ - 12/9 2014 More on CHROMA256: www.hdm-stuttgart.de/view_news?ident=news20140815110624

Studiengang:

Audiovisuelle Medien (Bachelor, 7 Semester)

Fakultät:

Fakultät Electronic Media

Sprechzeiten:

nach Vereinbarung

Raum:

332, Nobelstraße 10 (Hörsaalbau)

Telefon:

0711 8923-2229

E-Mail: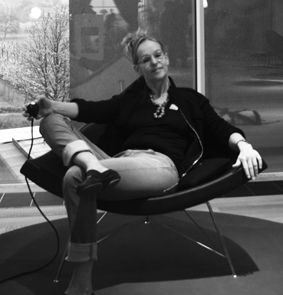 Lebenslauf
Publikationen
Vorträge
Projekte
Abschlussarbeiten
Lehre
Lebenslauf
1979-1985
Stuttgart Academy of Fine Arts; sculpture and graphic design
1985-1986
San Francisco/New York; Unitel, Mtv: inspirational internships
1986-1988
Munich: art direction for computer graphics in digital post production studios at ARRI TV, Bavaria Video
1988-1993
SDR Stuttgart: senior art direction for concept and design in television, working with digital graphics, animation and post production; freelance designer and Quantel trainer for several ARD tv stations (NDR, SFB, RB, SWF); 1991 BDA International award for designing a cultural program at SDR: "Et Zetera"
1993-1994
HR Frankfurt - head of design and animation departments; New York - designer and editor for a tv talkshow aired live to German television
1994-1997

BDA International board member for European broadcast designers, giving sessions on broadcast design education at Los Angeles and Chicago conferences in 1996 and 1997; co-founder of the German based tv designer's association Eyes & Ears of Europe in 1996

1995-1999
Professor at FH Augsburg, dept. of Visual Communication for Media Design
1997-1999
birth of son Francis in Hollywood Florida in 1997 - mother's leave
1999-today

Professor at Hochschule der Medien Stuttgart in Audiovisual Media for Graphic Arts and Screen Design; free projects include re-designing CD of Hochschule der Medien in 2002; book publication in 2003; establishing HdM Gallery in 2004; 2005 and 2008 book publications - artist monographies; contributions for art & design journals;

2009 guest lecture at NYU's digital media department on typographic animation

2011 visiting academic at USC Queensland Australia: starting international cooperative design research project CHROMA256 with Senior Lecturer Dr Kevin Todd

2013 Kick-off of CHROMA256 at HdM in Germany creating the German contribution

2014 First Exhibit of CHROMA256 at USC Art Gallery in QLD, Australia; exhibition preparations for summer 2014 at Stuttgart townhall

2014 July 22: CHROMA256 exhibition in Stuttgart townhall

www.hdm-stuttgart.de/view_news?ident=news20140815110624
Publikationen
Design, Media, Culture and Society
BDA International Conference 1996 in Los Angeles and 1997 in Chicago: Sessions on "Graphic Design in Television - Educating Students in the Field of Broadcast Design"
1997
Akademische Mitteilungen: "Replikator"
1997
"Gruppe Montag": The Responsability of Art as Wake-Up Call
2004
Monography on the sculptor Alfred Früh and his work
2004...

HdM-Gallery: establishing an art space at HdM Stuttgart with regular exhibitions www.hdm-stuttgart.de/view_news?ident=news20091022150337

2005
Monography on the artist Hilde Fuchs and her oeuvre of woven tapestries

2005

book, dvd & www: "The Art of Geometric Algorithms for Architectural Engineering" for the architect Arnold Walz, Stuttgart: www.a-walz.eu
Vorträge
1996 Session Host at the BDA-Promax International Conference in Los Angeles on Broadcast Design Education
1997 Session Host at the BDA-Promax International Conference in Chicago on Broadcast Design Education
2009 Guest Lecture at NYU's Digital Media Department on "Typography and Animation"
2012 Visiting Academic at USC Queensland Australia, cooperation on the topic of color research
2014 Speaker and Chair at CHROMA256 exhibition and opening event, hosting speakers from science and industry
www.hdm-stuttgart.de/view_news?ident=news20140815110624
Projekte
CHROMA256 Exhibition in Stuttgart Townhall 22/ - 12/9 2014 chroma256.de facebook/chroma256
More on CHROMA256: www.hdm-stuttgart.de/view_news?ident=news20140815110624
Abschlussarbeiten
too many... on most interesting topics - great results!
Lehrveranstaltungen (im laufenden Semester)
Audiovisuelle Medien (Bachelor, 7 Semester)
Audiovisuelle Medien (Master, Studienstart ab WS15/16)