German-chinese degree programm Media and technology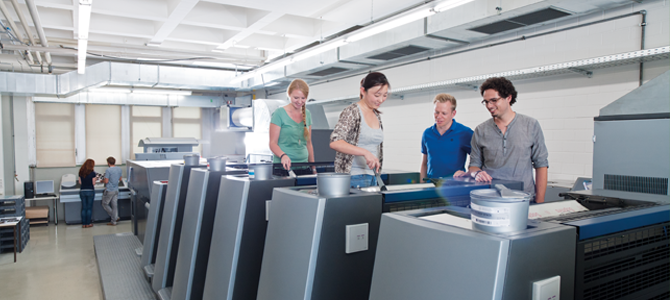 At the moment, there is no english version available.
Der deutsch-chinesische Doppelstudiengang Medien und Technologie ist ein international einzigartiges Angebot: Das ingenieurwissenschaftlich geprägte Studium findet an der HdM und in Xi'an an der Technischen Universität (TUX) statt. Es bietet drei Vertiefungen "Digital Publishing", "Verpackungstechnik" und "Digital Media Technology" und schließt nach sieben Semestern mit einem Doppelabschluss beider Hochschulen ab. Dabei steht je nach gewählter Vertiefung ein anderer Anwendungsbereich im Vordergrund. Während Absolventen der Vertiefung "Digital Publishing" über digitale Verarbeitungsketten Druckprodukte und digitale Medien gestalten und in innovative Produkte umsetzen, konstruieren und gestalten Absolventen der Vertiefung "Verpackungstechnik" unterschiedlichste Verpackungen. Ganz gleich, ob die Ware nach Übersee geht oder den nächsten Supermarkt, verpackt wird immer. Die Absolventen der Vertiefung "Digital Media Technology" arbeiten in verschiedensten Bereichen der IT. Dies umfasst sowohl den klassischen Softwarebereich als auch die Entwicklung von Computerspielen oder Software für mobile Endgeräte.
Bewerber müssen keine Chinesischkenntnisse mitbringen.
Inhalte und Aufbau
In den ersten Semestern lernen Sie die theoretischen Grundlagen und die chinesische Umgangs- und Fachsprache, um für das anschließende Studium im Gastland vorbereitet zu sein. In Stuttgart erwerben die Studierende die naturwissenschaftlichen Grundlagen in Mathematik und Informatik sowie in den IT-basierende medientechnologischen und betriebswirtschaftlichen Fächern. In Projektarbeiten wenden sie ihr Wissen mit Hilfe vielfältiger und modernster technischer Ausstattung an der HdM an. Die in den Vertiefungen vermittelten Fachinhalte erwerben Sie je nach Vertiefung gemeinsam mit den Studierenden der Studiengängen Druck- und Medientechnik, Verpackungstechnik oder Medieninformatik.
In China wartet eine praktische Studienphase in einem Medienbetrieb und ein Studium an der Technischen Universität Xi'an auf Sie. Dabei besuchen die deutschen Studierende neben dem Sprachunterricht dieselben Vorlesungen wie ihre chinesischen Kommilitonen. Wieder zurück in Stuttgart, schreiben sie im letzten Semester ihre Abschlussarbeit. Das Studium schließt mit dem Bachelor of Engineering ab.
Perspektiven
Auf die Absolventen warten exzellente Berufsaussichten: Die umfangreichen Wirtschaftsbeziehungen zwischen Deutschland und China sorgen für einen stetig steigenden Bedarf an technisch qualifizierten Ingenieuren und Managern, die Erfahrungen mit China, der chinesischen Sprache und mit den Industrien beider Länder haben.
Zulassung
Der Studienbeginn ist nur zum Wintersemester möglich. Fünftzehn Studienplätze stehen zur Verfügung.