Eramsuscouple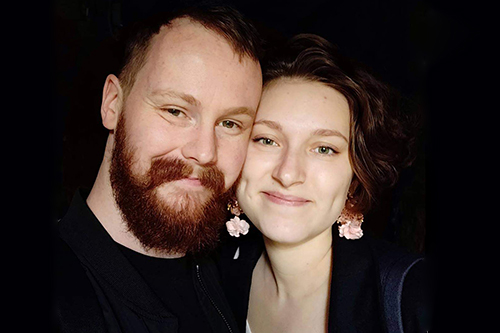 Julia studied Print Media Management at HdM in 2016. During this time, Geffrey made an internship at Bitfactory GmbH in Stuttgart via Erasmus.
At a meeting with the other participants of the Erasmus prgramme at Filderbahnplatz the two met for the first time. "It was interest at first sight" recalls Geffrey, "I befriended her friend, and she told me that they both had a boyfriend". But Julia broke up with hers some time later and Geffrey and Julia started writing via Instagram.
Two months before the end of their Erasmus period, they became a couple and thought about what to do next. Julia flew back to St. Petersburg after the semester with the plan to return to Stuttgart and spend the summer with Geffrey. The plan failed due to the end of his rental contract. So they planned a camping holiday in the Netherlands, where Julia also met Geffrey's parents. "We didn't worry about anything because we felt that everything was meant to be," says Geffrey.
Mutual visits to Geffrey's home province of Fryslan and St Petersburg in Russia followed. When the company where Geffrey did his internship offered him a full-time position, he took advantage of this career opportunity and moved to Stuttgart. Julia followed one year later. They live in a shared flat with a friend from Latvia, whom they met through Erasmus.
In July 2019 they married in Stuttgart. Geffrey and Julia will also celebrate their wedding in Russia this September.
Geffrey and Julia speak English with each other most of the time, simple dialogues also in German. The future children of the two could thus make use of a broad language selection: West Frisian or Danish from Geffrey's side, Russian from Julia's side as well as English and german. "It's actually funny to think what our future children will need to handle in languages," Geffrey laughs.
According to Geffrey and Julia, a semester or internship abroad with Erasmus is highly recommended: "Don't do it for the sole purpose to find your love, naturally. But studying abroad doesn't only give you some academic virtue". Studying abroad gives you the opportunity to escape those peer pressured, culture driven stigmas. The opportunity to just let yourself be yourself. Everyone abroad is different anyway. You meet people with different backgrounds, opinions, convictions and learn to appreciate a real conversation. "When I lived in the Netherlands, I floated with the current. But Erasmus teached me try new things, stand out of the mass and be my own man."
Anna-Sophie Kächele
RELEASED ON
11. September 2019