Library and Information Management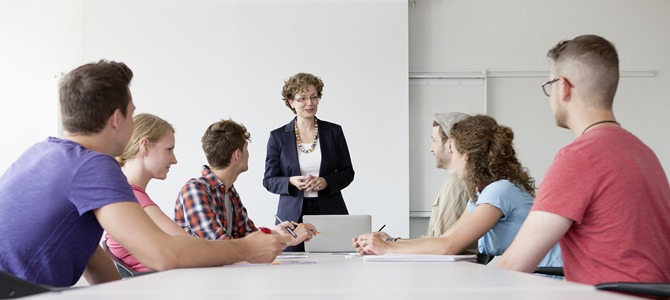 Libraries today: this means media products of all kinds, whether printed, digital or multi-media, whether books, e-books, magazines or newspapers, DVDs, databases or film and music downloads. Information, education and life-long learning: that is what libraries are concerned with. For this, experts are necessary to make the diverse forms of information and media accessible, to keep the data archives and organisation up-to-date, and to supply customers with expertly reviewed information and media sources.
Contents and Structure
The degree programme Library and Information Management combines a long tradition of training in librarianship with the impulses from a dynamically developing world of information and media. The professional research, interpretation and editing of information have as much a place on the syllabus as knowledge of the current media market, enabling the identification of customer-oriented selections of media. The students learn how to evaluate and select library management systems and databases, and how to implement and use them.
Moreover, the seven-semester degree programme offers diverse areas from culture and event management through communication psychology and the educational use of media to the construction of digital libraries. The students acquire management competences in the areas of human resources management, organisation, marketing, controlling and costing. The courses are varied; they include classical lectures, exercises and seminars, two project seminars with companies, workshops and e-learning – partly in the English language. Two short integrated practical placements and a practical semester which can also be undertaken abroad helps students gain insight into their future fields of work.
Perspectives
The graduates acquire competences that qualify them for a variety of types of library, information and documentation services in the public and private sectors. They also work for providers of library services, for example, in town libraries, media centres, and libraries in schools, universities and research institutes, in the information departments of firms, parliaments, law-courts, museums, churches, associations and media providers. Further, graduates who would like to qualify for work at management level in the library and information sectors can apply for the part-time Master's degree programme Library and Information Management.
Admission
The degree programme starts in the winter and summer semester. Student places are limited.
Contact Persons
Dean of Studies:
Name:

Prof. Magnus Pfeffer

Room:

I201, Nobelstraße 8 (Nobelstraße 8)

Phone:

+49 711 8923-3169

E-Mail:
Examination Office:
Name:

Julian Wurst

Room:

114, Nobelstraße 10 (Hörsaalbau)

Phone:

+49 711 8923-2878

E-Mail:
Student Office:
Name:

Tina Kunert

Room:

033, Nobelstraße 10 (Hauptgebäude)

Phone:

+49 711 8923-2091

E-Mail: