Audiovisual Media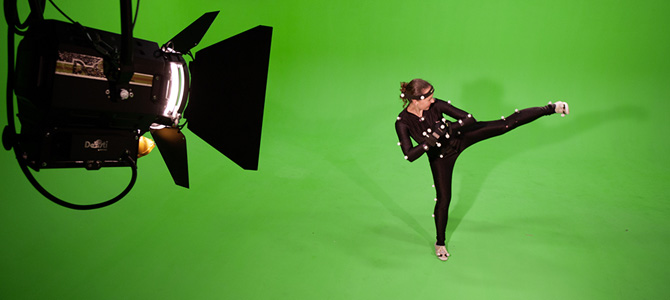 Computer-animated films, audio drama or visual effects for PC games are all developed by the students of Audiovisual Media. Working with media also means being able to master technology, design content and organise productions. To this end, the Bachelor's degree programme covers all the steps involved on the way from the initial idea to the finished media product.
Contents and Structure
Practice is at the heart of the degree programme Audiovisual Media. First, students receive a broad natural sciences/technology-based foundation with design and management elements in the basic part of the degree programme. In the main part of the degree programme they can choose specialisations from Technology and Design as well as subjects from economics and media sciences. Fields of study on offer are computer animation, film, television, visual effects, interactive media, the Internet, event media and sound.
For practical projects, the student teams have the use of professionally equipped studios. They produce live TV programmes, audio dramas, digital films in movie quality and create Internet homepages, edutainment DVDs or computer animated films. These media forms are also used to design events such as theatre performances or trade fair appearances. In this way audiovisual products are created by teamwork under professional supervision and production conditions from the idea through conception and realisation to public presentation.
Students are mentored by academic staff, tutors and technical assistants; they meet partners from the economy, arts and sciences, and complete production projects as part of their semester assignments which they can use for later job and other applications. In the practical semester they gain hands-on experience in media companies.
Perspectives
Graduates of the degree programme in Audiovisual Media leave the University as specialists for the varied jobs in the media. They work in production studios, in radio or television, in publishing companies, in advertising and in multi-media agencies, in manufacturing and in institutes for media consultancy, training and communication. After completion of the seven-semester Bachelor's degree programme, the Master's degree programme offers the opportunity to extend graduates' knowledge
Admission
Student places are limited. The degree programme starts in the winter and summer semester.
Contact Persons
Dean of Studies:
Name:

Prof. Dr. Andreas Koch

Room:

318, Nobelstraße 10 (Hörsaalbau)

Phone:

+49 711 8923-2249

Telefax:

0711 8923-2207

E-Mail:
Examination Office:
Name:

Ines Hochstetter

Room:

117, Nobelstraße 10 (Hörsaalbau)

Phone:

+49 711 8923-2237

Telefax:

0711 8923-2207

E-Mail:
Student Office:
Name:

Sibel Aktikkalmaz

Room:

033, Nobelstraße 10 (Hauptgebäude)

Phone:

+49 711 8923-2089

E-Mail: