Mobile Media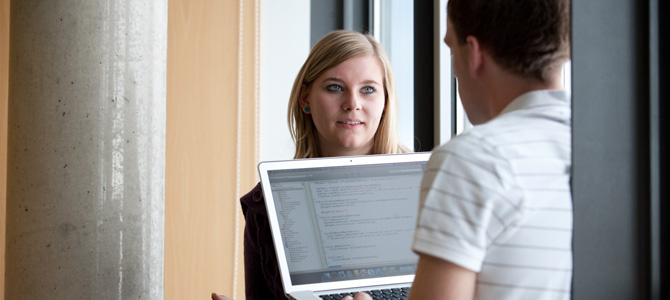 Applications such as the Internet, mobile TV, visual radio, navigation or computer games and their platforms, user equipment, such as mobile phones, notebooks, portable games consoles or infotainment and navigation systems, are the focus of this Bachelor's degree programme. It offers a competent and well-grounded training in this future-oriented and exceptionally fast-growing media sector.
Contents and Structure
The interdisciplinary Bachelor's degree programme is conceived as the interface between the degree programmes in Computer Science and Media, Media Management, Media Publishing, Advertising and Market Communication, and Information Design. The students develop applications for mobile user equipment, conceive and design innovative business models and learn how to realise different services. Alongside technical feasibility, they consider how to make content available, its design and usability, as well as learning how to plan and use appropriate marketing strategies and sales models.
The basic part of the degree programme is to a large extent identical with that of Computer Science and Media. Students learn basic mathematics and natural sciences as well as acquiring well-grounded knowledge in the disciplines of software development, computer networks and databanks. Additionally, in the main part of the degree programme, according to the electives chosen, they attend lectures in computer science, management, media production and mobile media design. In projects, students work together in teams to create solutions to the challenges of the mobile media industry. The practical semester offers students the chance to get to know the typical fields of work in mobile media as well as to reflect on and extend their knowledge. After seven semesters, the degree programme culminates in the Bachelor's thesis. Graduates receive the state-recognised academic degree Bachelor of Science (B.Sc.).
Perspectives
Graduates of the degree programme in Mobile Media have many good job opportunities open to them in a future-oriented professional field. Their work is interdisciplinary and forms an interface between technical computer science and areas concerned with information design and management. Some examples include the media and information industry, for instance, mobile telephone providers, software companies, content providers and games producers. Alternatively, students may extend their knowledge by enrolling for the consecutive Master's degree programme in Computer Science and Media, which prepares graduates for working at management level in the IT and media industries.
Admission
Student places are limited. The degree programme starts in the winter and summer semester. Applicants must include a letter explaining their motivation for enrolling for the degree programme with their application.
Contact Persons
Dean of Studies:
Name:

Prof. Dr. Joachim Charzinski

Room:

153, Nobelstraße 10 (Hauptgebäude)

Phone:

+49 711 8923-2774

E-Mail:
Examination Office:
Name:

Ilka Brand

Room:

117, Nobelstraße 10 (Hörsaalbau)

Phone:

+49 711 8923-3148

Telefax:

0711 8923-2207

E-Mail:
Student Office:
Name:

Dominik Moser

Room:

033, Nobelstraße 10 (Hauptgebäude)

Phone:

+49 711 8923-2086

E-Mail: