German-Chinese Course of Studies in Printing Technology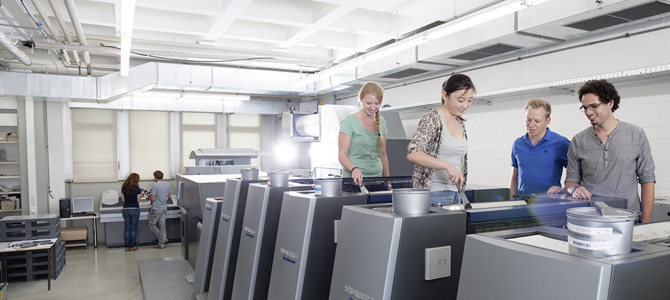 The German-Chinese double degree programme in Print and Media Technology is internationally unique: the engineering-based degree is taught partly at Stuttgart Media University and partly at the Technical University in X'ian (TUX). It is completed after seven semesters (valid from May 2011) with a double qualification from both universities. Applicants do not require knowledge of Chinese.
Contents and Structure
The future print and media experts who study on the German-Chinese degree programme learn about production processes such as offset, gravure, flexographic, screen and digital printing, as well as the technologies used in prepress. In the first semester they acquire the theoretical basics and everyday and specialist Chinese to be ready for the subsequent study semesters in the host country.
In Stuttgart, the students acquire basic scientific knowledge in physics, mathematics and information technology and study subjects concerned with printing technology and management. In project work, they can put their knowledge into practice with the help of the University's extensive, state-of-the-art technical equipment. In China they undertake one practical semester in a media company and one semester at the Technical University Xi'an. Here, the German students attend the same lectures as their Chinese fellow students. Back in Stuttgart, they write their Bachelor's thesis in their last semester.
Perspectives in Germany and China
Graduates can expect excellent professional perspectives: the extensive economic relations between Germany and China ensure that the need for technically qualified engineers and managers with experience in China, knowledge of the Chinese language and the industries of both countries is constantly growing.
An alternative to starting work immediately is to enrol for the consecutive, four-semester Master's degree programme which is similarly taught at the Chinese partner university and the University of Media.
Admission
The degree programme starts in the summer semester only. There are eleven student places.
Contact Persons
Dean of Studies:
Name:

Prof. Dr. Mathias Hinkelmann

Room:

301, Nobelstraße 10 (Hörsaalbau)

Phone:

+49 711 8923-2165
+49 711 8923-2002

E-Mail:
Examination Office:
Name:

Ilse Feldmann

Room:

114, Nobelstraße 10 (Hörsaalbau)

Phone:

+49 711 8923-2107

Telefax:

0711 8923-2108

E-Mail:
Student Office:
Name:

Dominik Moser

Room:

033, Nobelstraße 10 (Hauptgebäude)

Phone:

+49 711 8923-2086

E-Mail: