German-Chinese Course of Studies in Packaging Technology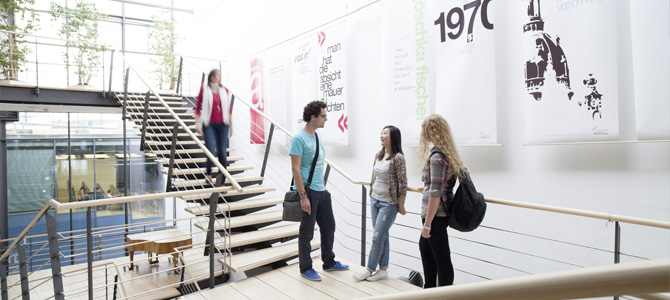 Similarly to the German-Chinese Degree Programme in Print and Media Technology, the German-Chinese Degree Programme in Packaging Technology offers a double degree programme in Germany and China and includes a practical semester in a Chinese company as well as a study semester at the Technical University in Xi'an (TUX). It is completed after seven semesters with a double qualification which is recognised in both countries. Applicants do not require knowledge of Chinese.
Contents and Structure
As in the German degree programme, in the first four semesters, students attend lectures in basic science including physics, mathematics and chemistry as well as subjects concerned with packaging, and printing technology and management. They can directly put their theoretical knowledge into practice in projects, either in cooperation with industry or in Stuttgart Media University's laboratories which are equipped with state-of-the-art packaging machinery. They learn about packaging processes, and different methods of processing packaging materials, and manufacturing packaging. Knowledge of food processing technology, packaging materials and machinery, together with the relevant packaging and filling processes provides a further basis for their future careers.
Students learn everyday and specialist Chinese right from the first semester. This is an essential requirement for the two subsequent semesters in China: first, students undertake a practical semester in a printing or packaging company in the host country; then they study packaging technology at the Technical University in Xi'an. The German students attend the same lectures as their Chinese fellow-students. Back in Stuttgart, they write their Bachelor's thesis in their last semester.
Perspectives
There is great demand for specialists with knowledge of the Chinese language, culture and industry. For this reason, graduates have a large number of opportunities to enter the packaging industry in both countries. Areas of work include the development and production of packaging, buying packaging for large brand names or planning larger packaging series, market research or logistics.
Admission
Student places are limited to five. The degree programme starts in the summer semester only.
Contact Persons
Dean of Studies:
Name:

Prof. Dr. Mathias Hinkelmann

Room:

301, Nobelstraße 10 (Hörsaalbau)

Phone:

+49 711 8923-2165
+49 711 8923-2002

E-Mail:
Examination Office:
Name:

Ilse Feldmann

Room:

114, Nobelstraße 10 (Hörsaalbau)

Phone:

+49 711 8923-2107

Telefax:

0711 8923-2108

E-Mail:
Student Office:
Name:

Dominik Moser

Room:

033, Nobelstraße 10 (Hauptgebäude)

Phone:

+49 711 8923-2086

E-Mail: