Cross Media Public Relations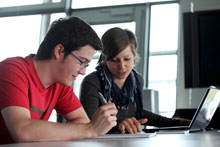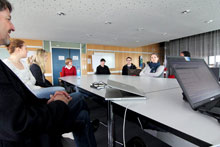 - You want to become a spokesperson for organizations? - You are interested in planning and running a communication campaign to change the perception of your organization? - You like to speak in public and convince other people? - You are interested in telling stories in social media?
Then studying public relations (PR) at Stuttgart Media University is the right choice for you. You will have seven feature-packed semesters that will prepare you for a multinational environment. The program is in German, our international semester is in English language and best suited for exchange students.
Your study program
The BA in Public Relations combines theoretical approaches and practical exercises to prepare students for the exciting world of corporate communications. We have three general fields of competencies for our students: Communication context, strategic thinking and content production.
1) Understand the communication context: develop a good understanding how media and communication create effects in business, politics and society, use research methods to solve communication problems.
2) Develop communication strategies: become a premier analyst and apply strategic planning to communication campaigns, have a good understanding of project and innovation management, business administration and media law.
3) Produce content: develop and compose crossmedia content following a strategic plan to enhance your organizations' reputation. Become proficient in writing, using digital assets and modern content management systems to deliver your messages on the web and beyond.
Integrated thinking
Our first year students have joint courses with crossmedia specialists to learn the fundamentals in communication science, journalistic writing and editing, visualization and presentation and web development. In their second year they take specialized courses in PR, covering PR writing and campaigning but also strategic planning and organizational communication. Our fifth semester is the mandatory internship. Students can choose from a wide range of internship possibilities in Stuttgart. After the practical experience we invite our students to go abroad for a semester in our International Semester. If you like to stay in Stuttgart - no problem: we will teach the sixth semester in English and you can team up with our exchange students to improve your language skills and intercultural understanding. Finally the seventh semester covers your thesis and prepares you for a smooth transition to the job market or a consecutive Masters' program.
Student projects
Our students are deeply involved in hands-on projects with the industry. During the course of study we usually have one pro-bono project for a non-profit organization and one project for an industry partner. Or you can hone your skills in our student run PR agency.
International exposure
You would like to come to Stuttgart but have only one semester to spare? Then we recommend to participate in our Minor program "Innovative Content Strategies" . It is taught in English and customized for international exchange students. You can experience German culture and run a corporate communications capstone project.
Perspectives for our students
PR and communication management as a professional field is still growing. Employers are looking for qualified graduates with hands-on skills and strategic thinking. Students enter the job market typically with a traineeship either at a PR agency or within an organization. Those interested in an academic career can enroll in our consecutive master program and specialize in corporate communications.
Links
For more information please see our website .
Contact Persons
Dean of Studies:
Name:

Prof. Dr. Lars Rinsdorf

Room:

S304, Nobelstraße 10a (Nobelstraße 10a)

Phone:

+49 711 8923-2257

E-Mail:
Student Office:
Name:

Sibel Aktikkalmaz

Room:

033, Nobelstraße 10 (Hauptgebäude)

Phone:

+49 711 8923-2089

E-Mail: