Information Systems and Digital Media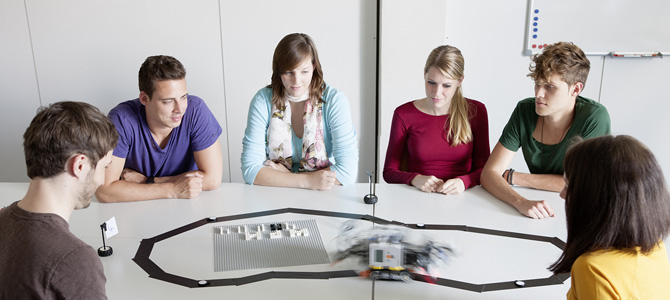 How can companies be managed successfully? Which processes play a role? How do you bring economics and technology together? Information systems managers are concerned with these and other questions. The degree programme combines traditional and business responsibilities in the field of digital media, for example, user-generated contents in the Internet, digital newspapers, e-books, interactive television or mobile information services.
Contents and Structure
The challenges of digital media with the solutions provided by information systems are brought together in the syllabus. The students learn to creatively combine innovative technologies with economic considerations. Moreover, they learn about the important economic interrelationships of the media industry and how to use digital media as an instrument of company communication.
The students receive basic knowledge in the fields of economics, management and business processes. Management and information technology are the basis for information systems. In the main part of the degree programme, the students choose between the specialisations Media & Management or Media & IT. Here, they extend their knowledge in the development and implementation of innovative business and service-provider models. Among these are, for example, the management of business process and application systems, customer management systems, business intelligence or IT management. In the sixth semester, the students can spend half a year abroad.
A strong practical orientation in cooperation with renowned companies is a matter of course in the seven-semester degree programme. With its emphasis on application systems, such as SAP, and its concentration on the different segments of the media industry, it offers many attractive and unique features.
Perspectives
Potential employers are to be found in the media industry as well as in all industrial and service-provider branches and in public administration. Graduates are sought-after experts in various positions, often in project and process management, in service provider management, in marketing, in controlling or in IT management. Their multidisciplinary competences qualify them especially for work in projects involving more than one field and which require an overview of the whole company.
Information systems experts will be especially valued in the industries of the future. Their special knowledge and skills will be increasingly needed as the application of information and modern information systems becomes increasingly important for companies' success.
Admission
The degree programme starts in the winter and summer semester. Student places are limited.
Contact Persons
Dean of Studies:
Name:

Prof. Dr. Martin Engstler

Room:

I208, Nobelstraße 8 (Nobelstraße 8)

Phone:

+49 711 8923-3172

E-Mail:
Examination Office:
Name:

Simone Anthes

Room:

114, Nobelstraße 10 (Hörsaalbau)

Phone:

+49 711 8923-3150

E-Mail:
Student Office:
Name:

Sümerya Cetin

Room:

033, Nobelstraße 10 (Hauptgebäude)

Phone:

+49 711 8923-2087

E-Mail: