Business Management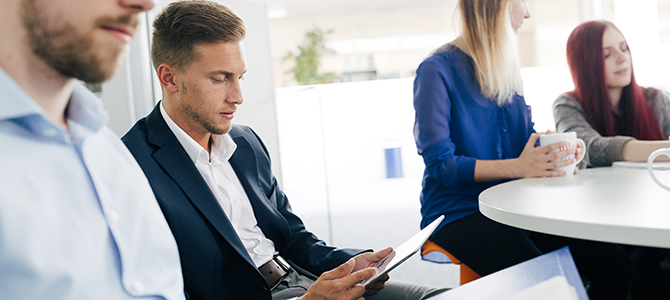 At the moment, there is no english version available.
Der MBA-Studiengang International Business ist ein fünf Semester umfassender, berufsbegleitender Studiengang, der optimal auf die Bedürfnisse Berufstätiger abgestimmt ist. Das didaktische Konzept integriert berufliche Erfahrungen und berufliches Wissen in das Studium. Durch die innovative Blended Learning-Konzeption, die traditionelle Präsenzseminare und moderne E-Learning-Möglichkeiten optimal verknüpft, bietet der MBA die Chance, einen international anerkannten Hochschulabschluss mit einer Vollzeitberufstätigkeit zu vereinen.
Aufbau
In neun betriebswirtschaftlichen Modulen werden Kompetenzen in den Bereichen Managementfähigkeiten und -methoden entwickelt und vertieft. Integraler Bestandteil des Studiums ist ein Auslandsmodul im vierten Studiensemester. Im Abschlusssemester wird eine stark praxisorientierte Masterthesis geschrieben, in der die Studenten die erworbenen Kompetenzen auf eine Problemstellung ihres beruflichen Alltags anwenden. Die Unterrichtssprachen sind Deutsch und Englisch. Der Studiengang schließt mit dem akademischen Titel Master of Business Administration (MBA) ab.
Perspektive
Ziel des MBA ist es, kritische Management-Generalisten mit strategischem Weitblick, fundierten analytischen Fähigkeiten und ausgeprägten sozialen Kompetenzen auszubilden und damit auf die Übernahme anspruchsvoller Führungsaufgaben in einer globalisierten Wirtschaft vorzubereiten.
Zulassung
Die Zulassung erfolgt zum Wintersemester. Voraussetzung ist ein erster berufsqualifizierender Hochschulabschluss (Diplom oder Bachelor) mit mindestens 210 ECTS, der Nachweis einer mindestens einjährigen einschlägigen Berufserfahrung sowie gute deutsche und englische Sprachkenntnisse.
Kosten
Die Studiengebühr für das Masterstudienprogramm beträgt 2.000 Euro pro Semester, zuzüglich der Kosten für den Auslandsaufenthalt.