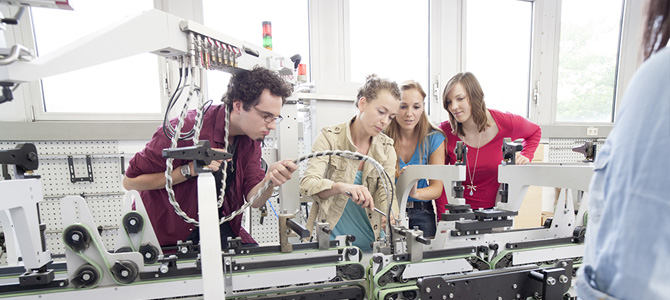 Packaging is more than just a brown cardboard box! It has to be constructed, designed and printed. The packaging of a product is more important now than ever. Whether a product is destined for the overseas market or for the supermarket around the corner, it must always be packaged. The degree programme in Packaging Technology has already been concerned with this area for 40 years.
Contents and Structure
Producing good packaging requires the ability to think and work constructively. Designers must have imagination but also aptitude in economic matters. The seven-semester degree programme is based on engineering, mathematics and the natural sciences and students acquire a systematic knowledge of the following areas:
Packaging materials, manufacture, properties, processing and uses
Construction and design of packaging
Packaging machines, packaging and filling processes
Management and packaging marketing
Printing of packaging
Project management, quality management, logistics
In the main part of the degree programme, students can decide on a particular focus by choosing electives from the areas of technology, economics, management, law and design. Alongside traditional lectures, they extend their knowledge and skills in practical assignments and workshops which take place in cooperation with industry. There are cooperative projects between the degree programmes in Packaging Technlogy and in Printing and Media Technology and the Centre for Flexographic Printing DFTA-TZ. At Stuttgart Media University there is a large laboratory with modern machinery for practical work. To complement the students' studies, excursions are offered throughout the degree programme which give the students the opportunity to gain insight into companies in various branches.
Perspectives
The growing importance of packaging and logistics within companies means that graduates have many opportunities for promotion. Their fields of work are broader than just developing packaging. They work in buying and selling packaging, in the planning and development of large packaging series, in market research or in logistics. Alternatively, they can extend their knowledge by enrolling for the Master's degree programme in Packaging Development and Management.
Admission
The degree programme starts in the winter and summer semester. Student places are limited.
Contact
Dean of Studies
Prof. Dr. Michael Herrenbauer

Dean of Studies
Office
180 (Technikbau)
Phone
+49 711 8923-2733
Examination Office
Office of Student Affairs