Erasmus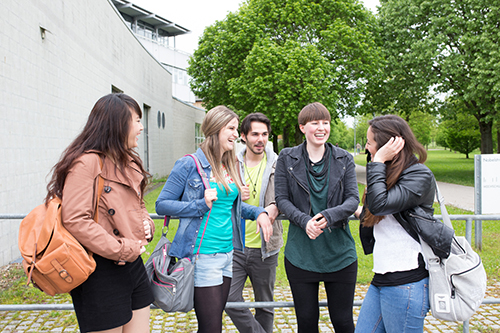 Erasmus. A word that almost everyone will hear in the course of their studies and that they might even have to deal with. In the past calendar year, 166 HdM students applied for financial support from the Erasmus European Support Programme.
What is Erasmus?
Since 1987, EU citizens have had the opportunity to spend three to twelve months studying or doing an internship in another European country. During this period, participants receive financial support if they have been studying for at least one year. The monthly grant for students can amount to a maximum of 450 euros, trainees receive up to 555 euros. A big advantage: the money does not have to be paid back.
But that's not all: An exchange semester or year with Erasmus should broaden your horizons, help you make international friendships and probably help you become more open and tolerant. Furthermore don't forget that some employers get shiny eyes when applicants have intercultural skills. There are plenty of reasons to apply for Erasmus funding and leave the HdM for one semester or two.
Germany is regarded as the most attractive non-English-speaking host country for international students. In addition to the high quality of the German higher education system, exchange students choose Germany because of the good career opportunities and the good reputation of German universities.
Survey among exchange students
How do foreign students actually like it at the HdM? Students from abroad who spent the summer semester 2019 at the HdM were interviewed: Most of them hope for personal development and new acquaintances from their time here. They also want to learn the German language and continue their education.
At the beginning of the semester, the exchange students, who are on average in their early 20s and stay for one semester, get a buddy. These buddys help them to get accustomed to the HdM and Stuttgart. The buddy programme enables exchange students to visit Heidelberg, the city with the oldest university in Germany.
Many of the exchange students stated that they had become more open to new encounters or a foreign culture. Furthermore they said that they have gained more self-confidence during their semester at the HdM. They appreciate the practical relevance of the HdM and the opportunity to participate in student initiatives. They also positively emphasized the technical equipment students are able to work with here. They feel at home in Stuttgart, think Germans are open and friendly and see a cliché clearly confirmed: Germans are industrious and hard-working. They perceive the state capital as clean and quiet. Especially in the summer semester, Stuttgart charmed them with many events from street festivals to animation film festivals or dormitory festivals on campus.
Anna-Sophie Kächele
RELEASED ON
04. September 2019